Breakfast Club
Breakfast club runs Monday to Friday 8.00 – 8.40am (last entry 8.30a.m.) and is charged at £1 per session, including breakfast. There is no need to pre-book attendance at breakfast club.
All Stars After-School Childcare
We run our own after-school childcare provision (All Stars) from Monday to Friday.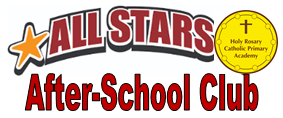 Costs (varying depending on collection time):
3.15 p.m. to 4.00 p.m. – £3.00
3.15 p.m. to 4.30 p.m. – £4.50
3.15 p.m. to 5.00 p.m. – £6.50
3.15 p.m. to 5.45 p.m. – £8.50
As part of All Stars, children receive a snack and drink. Please book children into All Stars in advance by contacting the school office.
Children collected late after 5:45 p.m. will incur an additional charge.
After-school Activity Clubs
After-school clubs vary on a termly basis, with letters sent out to parents to arrange clubs, and run from 3.30 p.m. to 4.15 p.m. They include a range of sports, such as football, multi-skills, tag rugby, netball, cricket plus a variety of non-sporting clubs.
Clubs are charged at a flat rate of £10 per club, per term.
If after an Activity Club, children then need to attend All Stars, there will be an additional charge of £3 per hour or part thereof.
'Out of hours' Phone Number
If collecting a child after our office staff have left for the day, you may need to call our emergency school mobile number: 07823770748.
We recommend that parents save this number in their phones.